Burundi: Culture cannot be separated from forestry or vegetation cover
Burundi is one of those African countries whose culture cannot be
separated from forestry or vegetation cover found in the country. But
ethnic and civil wars, coupled with the ever rising population
pressure are threatening to take away these rich ecological cultural
beliefs. The tiny land logged country in the Eastern parts of Africa
with an area of 27, 834 sq Kilometres is home to 2,500 different plant
species. On these plants, there exists 595 species of birds. Yet the
forest cover is home to 80 species of mammals, 26 species of
amphibians and 112 species of reptiles according to the government
statistics. The entire country is characterised by evergreen hills and
valleys, with the highest area (Koronje hill) measuring to 2,760
metres above the sea level.
On slopes of various hills are several
residential houses surrounded by trees and shrubs, facing the
neighbouring hills. Down the valleys are several palm trees growing
wildly. From them, many Burundians make their living by locally
producing palm oil and brewing the popular palm wine to be sold to the
locals. Trees in general have deeper meanings in the Burundian
culture, as articulated in Didier Babin's book called Beyond Tropical
Deforestation, published by UNESCO.
The country's community elders
still recognise the divine and cultural importance of trees, and as
well, the civilians appreciate it. As a result, the culture forbids
either logging of particular types of trees, or even using any part of
them for fuel. Even the most ardent loggers know and respect the
culture. Erithrina abyssinica for example is an indigenous tree known
in Kirundi as Umurinzi. It is a wild growing tree, whose domestication
is squarely based on the culture. In the olden days, it was planted
only by the king whenever he visited a place for the first time.
People could look at it and appreciate the fact that the King once
came to that area. To date, local leaders still plant Umurinzi, known
in English as the coral tree.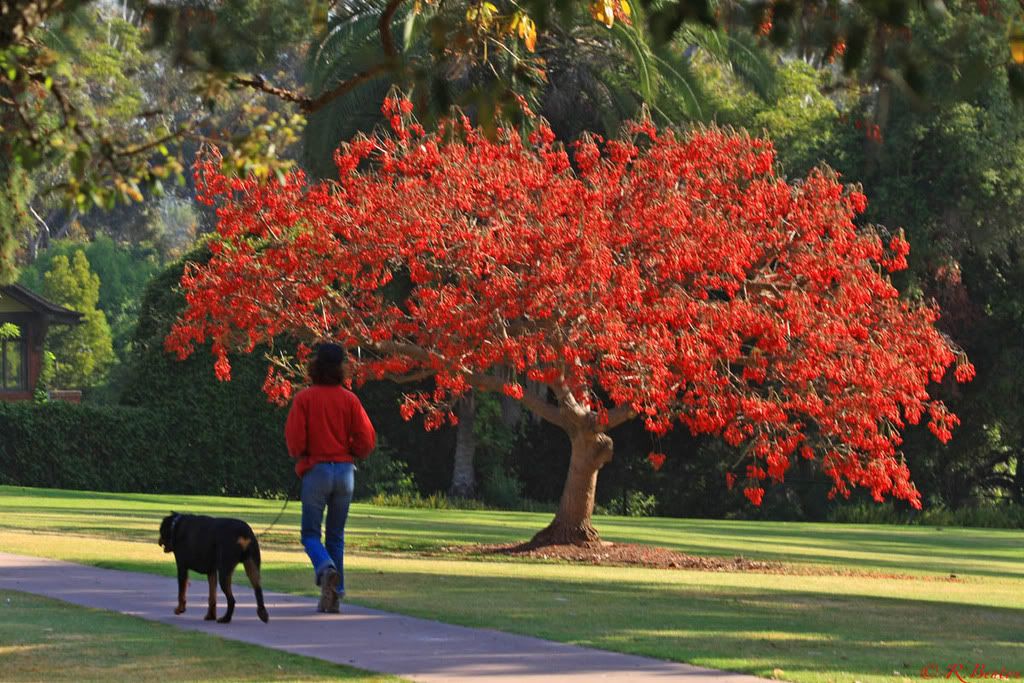 Umurinzi's produces flowers associated
to a King's crown. The flowers resemble a rooster's comb, and thus it
is sometimes referred to as a cockspur, or a cockscomb. Cutting it
down is highly forbidden to the current day according to the Burundi
culture. And like many other cultures in the world, drums are
considered sacred instruments for the Burundi people. The Burundians
curve their drums from a tree called Cordia africana. This tree is
never cut down for any other purpose if not for curving. The people
respect the idea, and thus a Kirundi saying; 'the tree used to make
drums cannot be used as fuel.' Omuvubuvubu is another tree native to
Burundi whose economic importance can not be underestimated.
Scientifically known as Ficus ssp, its bark is very important in
making of traditional clothes and mats.
Nobody in Burundi can dare cut
down Omuvubuvubu, lest the ancestors curse him. Other trees are
Phytolacca decandra (Umwokora) and Dalbergia lactea (Umuhosha).
Umwokora, known in English as pokeweed is well known for its herbal
remedies that include curing of stomach ache. Its perennial roots
possess an ingredient of a cathartic poison. This helps in emptying
one's stomach in case of constipation or a related problem. Both the
pokeweed and Umuhosha (Rosewood) are used in Burundi as herbs to keep
flies away from the cattle. Cattle raring are significant cultural
practices in the country, and thus it makes the two trees very
important to the people. As a result, whoever cuts down any of the
trees is seen as an outcast in the society. There are hundreds of
other tree species, which are culturally preserved in Burundi, thus
greening the country and making it stand out in the region. One will
find sacred trees like Igitongati, scientifically known as Dracaena
steudneri. Umutobotobo also known to botanists as Salaum aculaestrum
and is used for making a life fence. Aconkanthera oppostfolia, a
wonder tree whose unripe fruits produces sap with lethal poison used
by warriors to poison their arrows. However, its ripe fruits are food
to animals and birds. In the entire East African region, this tree is
never cut down for any reason whatsoever. This is part of what the
Burundi people are currently losing as they burn down their forests.
"Our country's vegetation cover is suffering. The daily forest
infernos are threatening to destroy the entire ecosystem," said
Bernadette Hakizimana, the country's director for environment. Several
acres of Kibira forest have been burnt down by the Burundi army
soldiers, in what government officials say is an attempt to smoke out
rebels and ethnic fighters who more often hide in forests. The same
has been witnessed on several other shrubby vegetations countrywide.
However, Hakizimana said that other reasons include the ever rising
population pressure in the country. This she said is because people
are seeking to clear forests in order to create space for settlement,
or to provide open fields for livestock grazing. It is estimated that
450 people are currently living on a sq kilometre in Burundi, with a
growth rate of 2.2 percent, according to statistics from the country's
last census conducted in 2005. In Bururi province for example, the
government officer admitted that over 760 acres of forest cover were
reduced to ashes in 2008 alone.
http://africasciencenews.org/asns/index.php/20090123966/News/Latest/index.php?option=com_content&task=view&id=966&Itemid=1